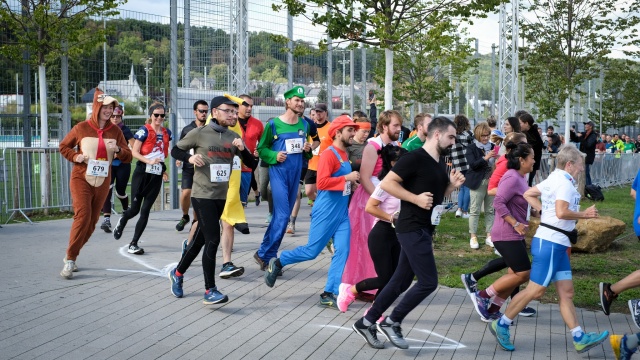 …WELL, MÄR SI STOL
The Steel-Run is a crazy race you definitely shouldn't miss. Get your sportswear, or better yet, your costume and let your strides guide you through places in Differdange where runners rarely venture.
In this edition, the 1535° Creative Hub will also be part of the course.
Registration
The registration deadline is set for September 15, 2023, at 11:59 PM.
Registration fees
10€ per person until August 15, 2023
15€ per person from August 16, 2023, to September 17, 2023
Includes the following services: the bib with integrated chip, refreshments throughout the event, medical assistance during the race, changing rooms, showers, and the Finisher t-shirt.
Practical information
Start at 3:00 PM
Distance of 11 km
Men and women teenagers and adults, from 14 to 99 years old
Young people aged 14–18 must have parental permission.
More information: www.steelrun.lu
Discover the aftermovie of the 2022 edition: Aftermovie 2022
Organized by the Sports Department of the City of Differdange.