Back to news
Afterwork - Creative Cluster
Events
Published on 23.05.2023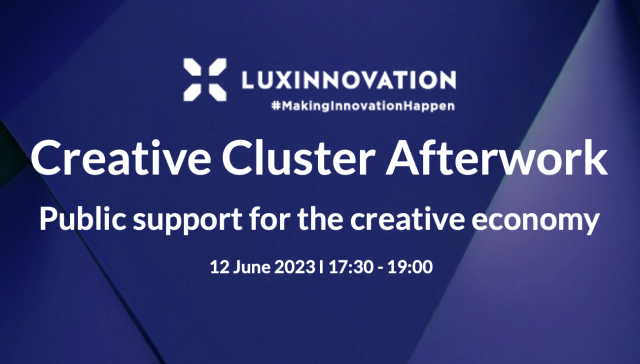 When
Monday 12/06/2023 from 17:30 to 19:00
Public support for the creative economy - Creative Cluster Afterwork
The Luxembourg Creative Industries Cluster is happy to invite you to an Afterwork session held in the presence of Luxembourg Minister for Small and Medium-Sized Enterprises Lex Delles. The event will provide the stakeholders of the creative economy with an overview of the efforts the Ministry of the Economy has put in place to facilitate the growth of Luxembourg's creative sector and of the programmes developed to help creative entrepreneurs become more resilient for the future.
Sasha Baillie, CEO of Luxinnovation, Tania Brugnoni, Director of 1535° Creative Hub, Ville de Differdange, Christiane Brassel-Rausch, Mayor of Differdange and Luxinnovation's and the House of Entrepreneur's experts on the public funding programmes provided by the Ministry of the Economy will all be present at the event.
After the presentations, participants will have the opportunity to ask the Luxinnovation experts detailed questions regarding the support programmes and network with each other to find potential partners for future collaborations.
Programm
17:15 Welcome drink and music
17:30 Developing the creative sector: The ambitions of the Ministry of the Economy  

Minister for Small and Medium-Sized Enterprises Lex Delles

17:40 Luxinnovation: Supporting the creative industries

Sasha Baillie, CEO of Luxinnovation

17:45 Differdange: A home for creatives

Christiane Brassel-Rausch, Mayor of Differdange

17:55 1535° Creative Hub: The fabulous minds district

Tania Brugnoni, Director of 1535° Creative Hub

18:00 Support programmes for creatives
18:30 Questions & Answers
19:00 – 20:00 Matchmaking
Event language
English
Location: 
1535° Creative Hub
115C, rue Emile Mark
L-4620 Differdange