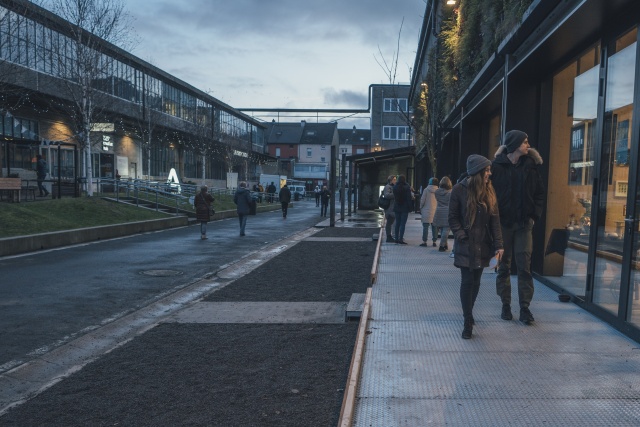 Guided tours of the site and discovery of the heritage of the 1535° Creative Hub
"An industrial heritage reinvents itself into a dynamic hub for creative industries – 1535° Creative Hub"
As part of the European Heritage Days, between September 23 and October 1, 2023, the 1535° Creative Hub invites you to participate in guided tours and discover this former site of the steel industry now serving the creative industries.
The origins of the site of the 1535° Creative Hub date back to the 19th century. It was in this place that in 1911 the first "Grey" beam (Wide-flange beam) measuring 1 meter in height was cast, making Differdange its sole global production location until the present day.
In 2011, the City of Differdange decided to launch a creative hub project in three of the former workshops that belonged to the factory in Differdange and were abandoned following the economic crisis of 1973.
Renovation work dedicated to innovation and creative entrepreneurship began in 2013, with a focus on preserving the industrial heritage of these old buildings.
Today, the 1535° Creative Hub offers 16,000 square meters of creative spaces spread across Building A, the "Schräinerei" former carpentry workshop of the factory, Building B, the "Zilleschapp" used as a storage area for the bricks used to clad blast furnaces, and Building C, the "Kesselbetrib" which housed the welding and electrical workshops of the Arbed.
The name 1535° Celsius refers to the melting temperature of iron, in proud memory of our past.
The tours include:
Introduction to the site
Presentation of the multimedia installation "Differdange, from the mine to the 1535° Creative Hub"
Viewing of a testimonial film
Tour of the old buildings "Schräinerei (A), " "Kesselbetrib ©, " and "Zilleschapp (B), " now a national platform for creative professions and a workplace for 70 companies in the creative economy sector
Schedule:
Guided site tours (+-90min): Departure at 3:30 PM in front of Building B on the 1535° site
Languages: LU/FR
No reservations required, unlimited participation
Free event
Schedule
September 23, 24, 30 and October 1, 2023, from 3:30 PM to 5:00 PM Location
In front of Building B on the 1535° Creative Hub site
Project Type
Language(s)
Project producer/Holder
Administration Communale de Differdange, 1535° Creative Hub
Contact
1535@differdange.lu 
(+352) 58771 1535 
www.1535.lu